Tripawds is a user-supported community. Thank you for your support!
Cancer sucks, it sucks really bad! It stole my boy from me, it forced me to make some of the hardest, heart wrenching decisions I've ever had to make and for that I hate it. But I have recently found something positive to take away from the god awful disease. My story here isn't a nice one, it doesn't have a happy ending so don't read on if you don't want to, but life has a funny way of teaching you lessons. This weekend I learnt to be thankful and grateful for how my story ended with Zuki. That's the first time I've been able to say that.
I live on a small island, only 9miles by 5miles but we have some wonderful coastal scenery and have fantastic opportunities to take our dogs on great adventures around the island. We also have a very tight community and our doggy scene is active and sociable, we regularly have group walks, dog shows and get togethers etc. We use an active social media group where we can all share stories, ask advise and organise meets.
So to my story, Friday morning over breakfast I was scrolling thorough Facebook as we do these days and came across a post about a lost springer spaniel. Now posts about lost dogs aren't unusual and people are pro active and try to help in anyway they can, but this one particularly caught my eye due to the timing, location and duration. The dog had gone missing on Thursday morning (24hrs previous to the time of the post, which was quite a long time to be missing), last seen on our north coast which is mainly cliff paths with some quite daunting edges, with sheer drops down into the sea. Thursday had also been particularly foggy, pea soup to those familiar with the term. I scrolled through the various comments on the thread and realised quite quickly this was a serious situation.
I am fortunate that I don't work on Fridays, so I decided that I would take my son and Phoenix with me to the area Bailey (the springer spaniel) had gone missing to see if we could help locate him. Phoenix is fab and can spot a dog at 200m. Zeus was unfortunately left out of this outing as he can be a bit of a handful and obviously if I was lucky enough to find bailey I needed to be able to get him back to safety and I would only be able to handle two dogs (and Kaydn in the carrier on my back). Off we set with the fog still hanging low but a beautiful blue sky above us, full of anticipation of reuniting this pooch with his family. Well I really wasn't prepared for the scene I would find.
The area where Bailey disappeared is actually near our race course on an area of heath land and cliff top paths. There is a central car park that I pulled into, there were already a few cars there including a police car. The Facebook post was quite loose on details, so I had had the intention just to walk with nix and let her have a good play while keeping my eyes and ears open and spreading the word to any other walkers I may pass. Though when I arrived I had to change my plan. There were no other walkers that I could see in either direction, I noted it was particularly quiet out there, not really what I was expecting. The main sight at Les Landes is the castle ruins which is located directly in front of the car park, I could hear voices coming from through the arch so decided that would be a good place to introduce myself as a keen searcher and to get any up to date details of sightings etc.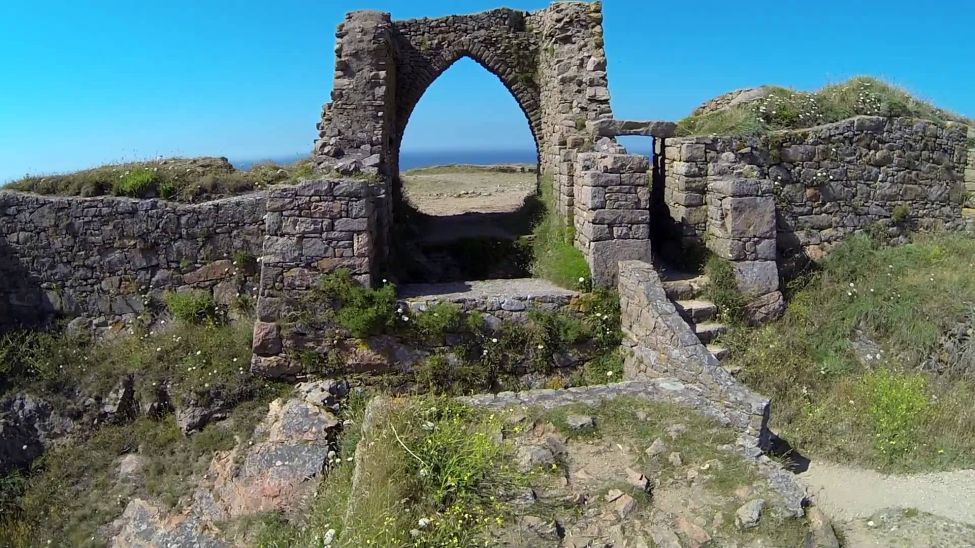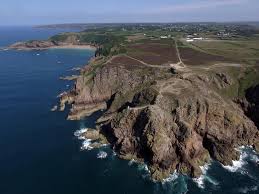 This is the castle ruins, look through the arch at the terrain. The below pic is a view from the sea looking back, the light patch of ground at the end of the two visible pathway's is the car park I referred to.
Well I was faced with a line of about 8-10 people standing right at the edge of the open grass area, all looking out to sea. 2 of these people flying drones, I couldn't see them but I could hear the hum of their propellers. On a large rock just behind this group sat a couple, the woman clearly distressed. I deduced these must be Bailey's owners. I went over to say hi, and offer my assistance. Cindy (Bailey's mum) was very grateful I had come up and continued to tell me the story of how Bailey had gone missing.
Bailey had been out with his usual dog walker on Thursday morning, Bailey is a trained, working, gun dog so obviously highly strung but highly intelligent. Suddenly Bailey disappeared and didn't return when called, I assume the dog walker searched for him but I also believe she had a number (possibly 6, although that's hear say) other dogs with her. The fire brigade and coast guard had been called up on Thursday as it was feared bailey had either gone over the edge, maybe disoriented by the fog or fallen into a bunker (there are old sites from the German occupation) or a rabbit hole – both these scenario's have happened in the past. Well by the time I arrived on Friday Cindy was in pieces, bless her they had been searching for over 24hrs with not one sighting and had made the decision to search for 2 more hours (till dark) before assuming Bailey was dead, having fallen over the edge and into the sea. The drones were currently attempting to search all the coves and ledges on the cliff in the desperate hope he'd managed to catch himself and was now just stuck. The problem was these guys where just good Samaritans trying to help, they were recreational drones and the camera's on them weren't designed for this kind of search mission. But they had to try didn't they, everyone was desperate for answers, good or bad. I quickly realised that my nice afternoon exploring with Phoenix wasn't going to be the pleasant one I envisaged, in fact just listening to Cindy tell me her story through her tears and lumpy throat also brought me to tears, I felt helpless. I mean what do you do, do you tell them to stay positive and Bailey is chasing bunnies having a whale of a time or do you accept what they are telling you and pass on your condolences for the lose of their beloved family pet?! Well I didn't need to worry as I lost it, I was in floods of tears myself trying to console these poor people and had to excuse myself so I could get it together. Gosh it really was an awful scene, and other than the hum of the drones it was the deathly quiet. That will stick with me. I hate to admit it but it just didn't 'feel' like Bailey was charging around here somewhere. I did walk about a quarter mile either side of the arch in the hope I might hear him or spot a waggy tail in the heather but it was done half heartedly I'll admit. However, I still had Phoenix and Kaydn with me, so we had to make the most of the afternoon. I stayed in the area for moral support until the evening when the drone guys had to call it a day and everyone was reluctantly accepting it was too dangerous once it was dark to search, so started to head home.
Come Saturday after another update on the Facebook feed that Bailey was still missing the dog community really rallied. A large search party headed up to the castle ruins. We had 3 search/tracker dogs to scent for Bailey, we had kayakers and fishermen out in the sea to look back and search the headland, climbers who could traverse the cliff and we had a huge number of walkers to help cover the ground where we were really hoping Bailey was just stuck in a hole. Unfortunately, as I said this story doesn't have a happy ending. Although the commitment from everyone involved was exceptional we didn't find Bailey, the tracker dogs confirmed everyone's fears by signalling towards the edge whilst scenting. There is still no news and now the family are just praying his body washes up so they can say their good byes and have some closure. It truly is a heart breaking story to be part of, but one that has made me grateful.
I started this post by saying a little positivity and your all probably thinking what the heck is there to be positive about! And for Bailey and his poor family there isn't much I'm sad to say. The weekend has however shown me how wonderful it was to have those last few moments with Zuki. To hold him close and know there was only love in his eyes and not fear. Cancer is a horrendous disease that ripped our family to pieces, however there is a lot to be said for warning and preparation. I didn't have long enough, I wanted more time, I was angry and felt I was robbed, but I did say good bye. I cant imagine how Cindy must feel, I'm sure they left their home the other morning expecting a normal day, planning a family walk in the evening perhaps. But now Bailey's bed is empty, their children confused about where their friend is. My heart goes out to them while I look at the final pictures I took of Zuki, the pictures I knew I would be able to treasure.
So those of you who are just starting this journey, I know your planning the end. Running through your head how you want it to be, who you want to be there. We all did it once we accepted that our furries were terminal. Take peace from that time, the hurt will be intense the tears flowing, but in time you will look back and take solice from it. Its a strangely magical moment being there, holding their head and paws as they drift into the unknown. As you release them. Now I know your thinking I'm wrong, that its the most horrendous act you've ever had to request but time does heal and time does give you perspective. Enjoy every day to its fullest with your doggies, because none of us know how tomorrow looks or what is in store for us. Sometimes its a stark reality that reminds you of this. I wish Zuki was here, under my feet as I wrote this. But he's not. He did however leave this place peacefully, in my arms and surrounded by all the love I could give him. Thank you cancer, if it is the only one positive thing, its something I'm thankful for – Time and warning.
Rest in peace Bailey, I'm so sorry we couldn't help you.