Tripawds is a user-supported community. Thank you for your support!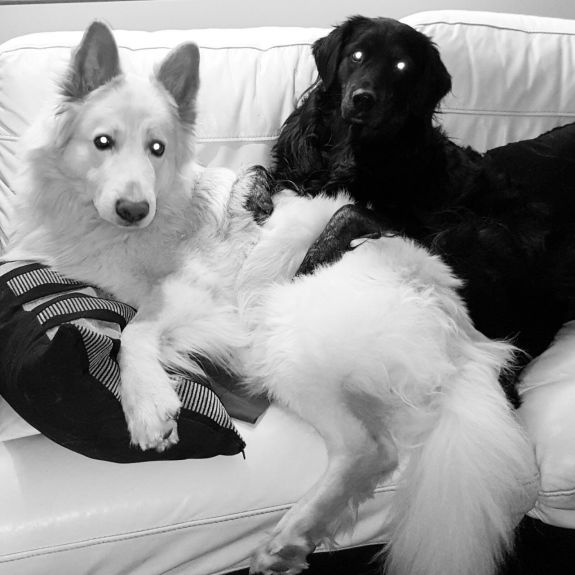 Well if you have been following my story you will know that back in September/October last year I was introduced to a spirited (naughty!!) 3.5 yr old White German Shepherd called Zeus, he needed a permanent home to call his own. At the time we still had Zuki with us and although we knew his time was limited, we always hoped we'd have him for years to come and realised we were best as a 2 dog household (we just didn't have the sq footage for 3 large dogs and a toddler amongst other reasons), but in our heads we accepted that having Zuki for years was probably wishful thinking and sadly yes we lost Zuki way too soon but out of that sadness our family has found more happiness.
I am delighted to announce that just under a month ago Zeus joined our pack, just over 2 months after loosing Zuki. You may have read in my previous post that we had done some play dates with Zeus, Phoenix and Zuki before Zuki passed and they all got on fantastically. In reality they shouldn't have, Zuki a full male notoriously overly dominant with other dogs, Zeus an un-socialised, reactive dog with a tendency to bark and lunge with anxiety at other dogs and then stick a female in the middle of it all – well any text book would tell you you were asking for bother. Not my pack, I still don't know why or how but all three gelled perfectly. They played and shared toys, they welcomed each other into their houses without a curled lip or snarl, flip, they even all ate next to each other. And witnessing those moments told me in my heart that Zeus belonged with us, that we could give him a good home with his very own guardian angel.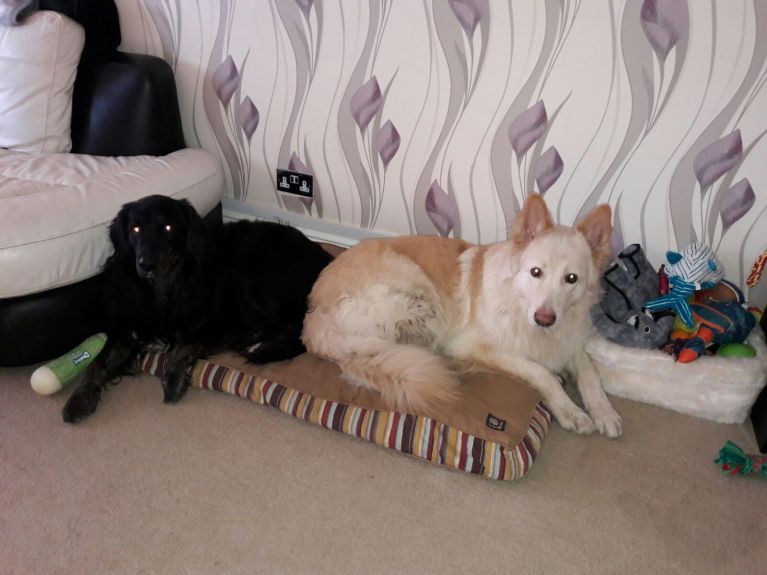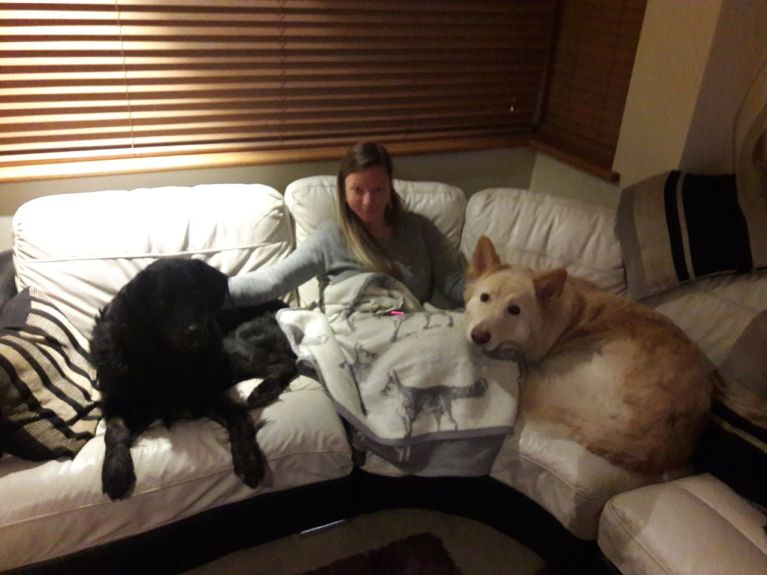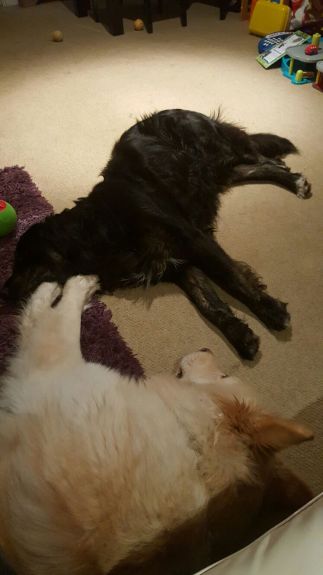 He couldn't be settling in any better. He is 100% a cuddle bear and I have never known a dog to sleep so deeply. He is a complex, strange little soul though. When he's relaxed its literally like he doesn't have a care in world, but yet he is also very reactive and the simplest of things can send him hyper with anxiety in a nano second and that's when the barking starts (I really don't like the barking – we are working on that). In Zeus' past he doesn't seem to have had much structure or boundaries and he definitely doesn't seem to have had a confident leader and I suspect that's where the majority of Zeus' antisocial behaviour comes from. 3.5weeks ago when we got him he would bark at the telly, bark at cars or people passing the house (god forbid they actually came TO the house), he barked passing dogs on walks, he barked passing people on walks, he barked at buses, motorbikes and cyclists, he barked consistently in the car – you getting the idea? Well now, and I'm so proud to say he's doing so so well. We maybe have a bark or 2 a day. I can pass dogs now and both Zeus and Phoenix will sit quietly at heal and allow them to walk by without incident. I will work up to allowing them to say hello to others dogs when appropriate but they just get so excitable at the moment that I need to make sure I'm in control of the situation before we progress to that. Buses, motorbikes and cyclists barely get even an ear flinch from Zeus now. He will still bark when people come to the door or we have guests but where as before he would be on edge for a good 30mins or more with new people, he is now introduced, he says a hello and has a good sniff and then comes to me saying 'please can I have a sweety?'. We are still working on recall when out, hes doing well and is probably 90% reliable but we have had very little distractions so the next step is to put him to the test with other people or dogs in the area. I hate him having to wear a muzzle when off the lead, but I have to be responsible and the reality is its still very early days. I've promised Zeus we will work together and one day, in the not too distant future, he will run free without that darn muzzle.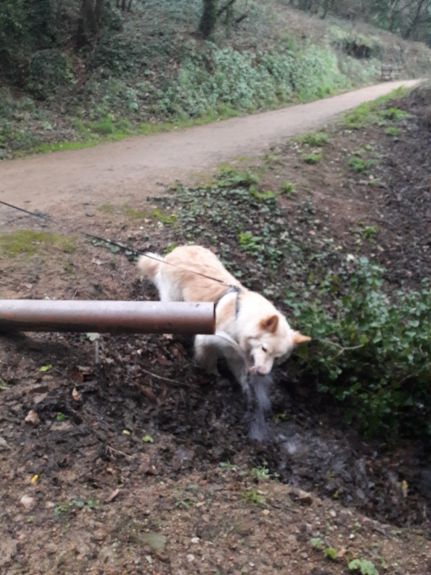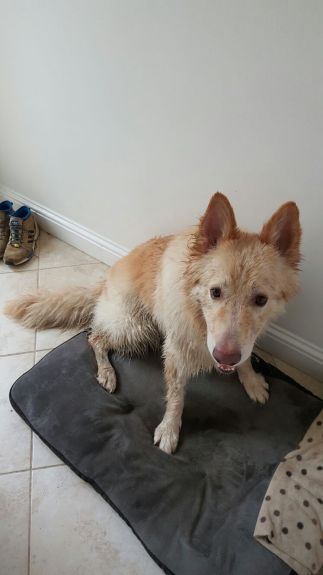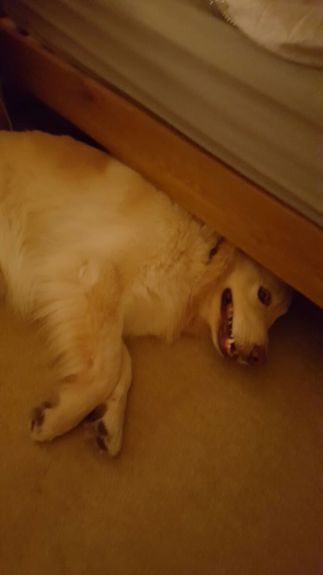 At home though as I've said he is just the biggest cuddle bear and he would do anything to get into bed! I mean my bed not his! In our house the majority of the time the dogs sleep together downstairs at night and we have a gate at the bottom of the stairs to prevent creeping paws but on occasions the gate has been left open by mistake and Zeus is like a whip of wind! He's up those stairs and snuggled in my pillows before you can blink. The first time he did this I was out searching the front garden and the street panicked he'd escaped somehow, only to find him 10minutes or so later snoozing soundly (he had managed to shut the gate again behind him??!!) Now I wouldn't mind so much if a quick 'off' would resolve the situation, now I know Zeus understands 'off', its used regularly for the sofa etc and he's normally very obedient, but once he's on the bed that's it, you better be prepared to fight for it back. He will moan and groan and throwing his legs in the air if you try to get hold of his collar, he is a limp floppy dead weight if you try to pick him up, though he's quick to jump out of the way if you try to roll him off using the duvet! It is the most hilarious game of cat and mouse, with me or my husband desperately trying to remain assertive between the tears of laughter at Zeus' behaviour. That picture above is after one such session where he tried to hide under the bed to avoid being removed from the bedroom.
He is also a wonderful companion to my nearly 2yr old son – they play chase and catch and cuddle together to watch TV. Zeus will actively go find Kaydn and present him with a ball or climb inside Kaydns pop up tent to play cars with him (I am desperate to get a picture of that as Zeus is far too big and ends up with his butt sticking out the door or head out of the roof!! )
So all in all Zeus is currently a handful that does need some strong guidance but I can see that under all that unnecessary behaviour he is a sweet and lovable pooch.