Tripawds is a user-supported community. Thank you for your support!
Just over a week since I let my boy go. The hurt is still strong and the longing still intense but the story must go on…. Phoenix still needs all the love and support and attention we can give her to help her adjust to the new dynamics and my little boy who's just a toddler – well there is still all the fun and games that comes along with that! As a family we miss Zuki terribly, there were a lot of tears, usually at silly things. For example this morning at 7.30am when the bin men arrived to collect the rubbish, the house was quiet, sadly quiet, as it was always Zuki's job to tell those bin men to get lost (and wake the whole house and the baby while doing so :)) and I think I'll always miss those things. Who's going to dash to the front door shouting at nobody when a doorbell rings on the telly?? I had Zuki 10 years and never lived in a house with a doorbell, so where the heck did he learn to associate that sound with someone being at the front door?? Never did suss it out, he was just too smart for his own good!
However, I think a new addition is on the horizon for us, a lost soul who needs somewhere to call home, and his name is Zeus. As some of you who have followed my blog will know we moved to a small island called Jersey, off the coast of France about 2 years ago. As you can imagine White German shepherds aren't that popular here and Zuki soon caught a lot of peoples attention and the dog community rallied to follow his story through the good times and the bad and everyone shed a tear at his passing, the out pouring of sympathy and loss made my heart burst, I was so proud of Zuki. But back to the story, so when a 3 year old white shepherd needed a new home through no fault of his own word soon travelled to us. This boy was 3 years old and had been through 3 homes and the 3 long stints in the animal shelter. Absolutely nothing poor Zeus had done, the first family unexpectedly fell pregnant with their 5th child and couldn't cope and took him to the shelter, he was then rehomed with a guy who used him as a status dog and taught him so pretty unsociable behaviour and then ended up in prison meaning Zeus was back in the shelter, and finally his latest family took him on but really don't have the time or experience to handle him correctly and although are doing everything in their power to give him a good life and love him, he cant stay long term, so they turned to us. We obviously knew the situation we were in with Zuki being terminal and always knew another dog would be on the cards at some point, but to be introduced to a dog before Zuki went was never in the plan. But Zeus captured us. Zuki (hope your keeping up with the similar names!!) was always a people dog and had a tendency to be overly dominant with dogs he didn't take a fancy too, as a full male a lot of this behaviour was just instinctual and we always managed it understanding where Zuki's boundaries where and it never stopped us taking him out and about and socialising him if we were conscious and sensible, but to bring another large, younger, 4 legged male into Zuki's home I always thought would be an unreal expectation so initially we had agreed to take Zeus on walks with Phoenix to give them both some stimulation and interaction as Zuki couldn't do the long fast walks anymore. Well on day 1 Zeus met Zuki, in a neutral open space and to my surprise both accepted each other without even a curled lip! Zuki happily watched while Phoenix and Zeus chased each other around, I think he was lying there shaking his head old man style saying 'silly pups!' Well after 2 times of meeting with no issues whatsoever we got brave and brought Zeus home and the 3 relaxed together quite happily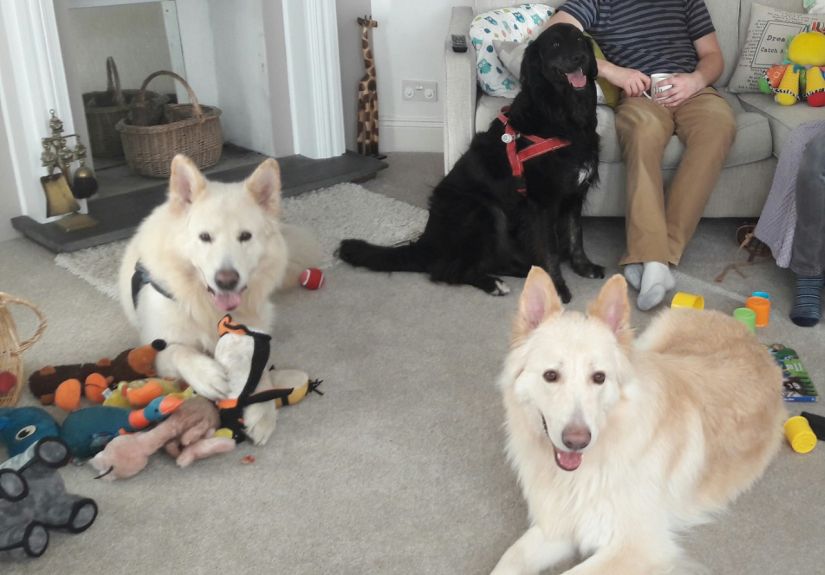 Zuki on the left, Zeus on the right and Phoenix at the back.
Over the course of about 2 months or so we had many play dates and sleep overs and Zuki seemed to approve of Zeus – and to me that's the fundamental reason why after only a week or so I can even contemplate Zeus becoming a full time member of our pack. Zuki met him, Zuki liked him and Zuki allowed him in his home – he got the paws up 🙂
So yesterday was the first time since loosing Zuki that we had Zeus for the day, we wont be taking him on full time until the new year as we have a holiday coming up and want to continue to mourn Zuki and allow things to settle a bit but also we want to get to know Zeus more and Zeus to become more comfortable with us to make his move as unstressful as possible. We are really fortunate to be in a position where we know the dogs background (good and bad but especially that he is an absolute dream with kids) and can do a gradual transition. Having a young child and quite a timid other dog we couldn't just rehome any dog.
Well yesterday was a fun day for all – the dogs had an absolute blast. We had arranged a group dog walk at the beach with a load of the girls from the yard where I keep my horse. 10 dogs in all, different sizes, different temperaments and backgrounds. Due to Zeus being exposed to some bad behaviour when he was a status dog the animal shelter had advised that he shouldn't be around other dogs as he isn't well socialised. Now I'm no expert and try not to defy advise I am given by people who are qualified but an animal shelter is an alien environment and we had witnessed Zeus with Phoenix and Zuki and he had given us no reason to doubt his temperament, he loves other dogs and playing and being free so we thought he deserved to come along on the group walk. We did muzzle him just to be on the safe side but he really didn't need it, he was such a good boy and played nicely with everyone 🙂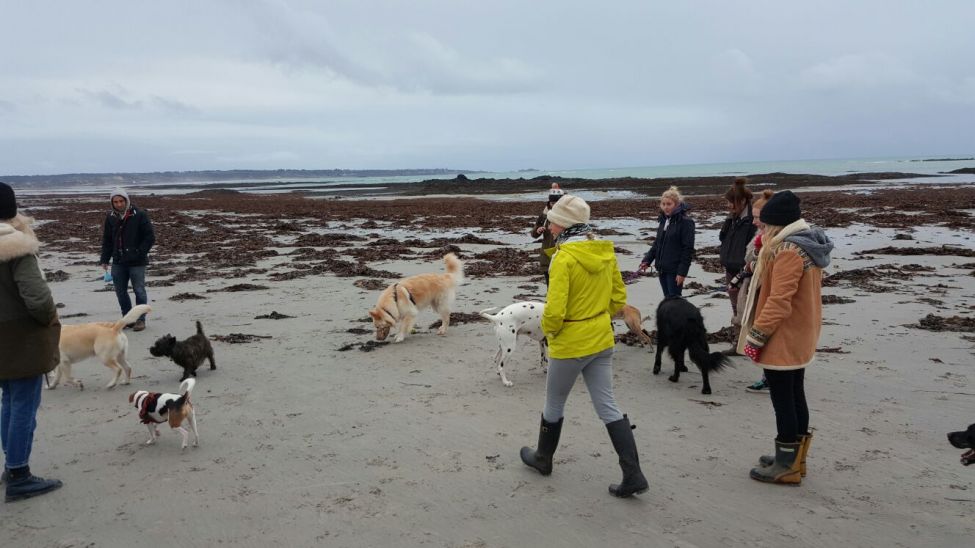 I have to say it felt nice to have 2 dogs in the house again, lounging around and just bringing even more love into our home. Zuki still has pride of place with his pictures and his ashes and will always be a fundamental part of our family. But Zeus is just the next chapter in our journey.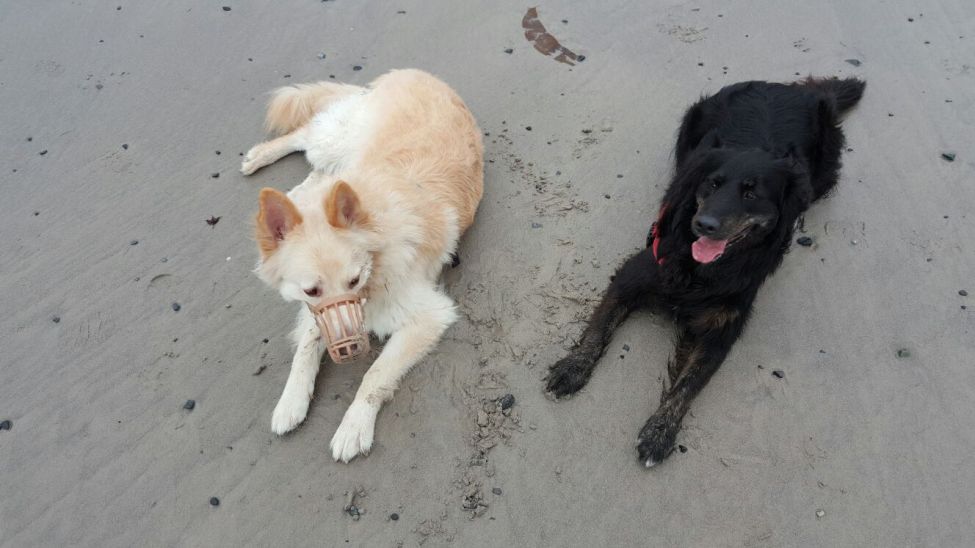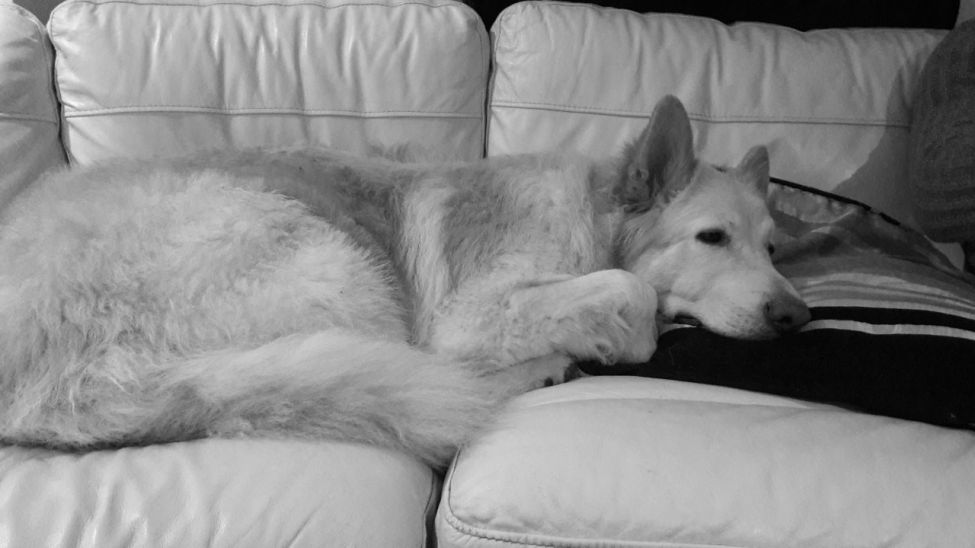 I'm a bit of a fraud here now as I no longer have a tripawd but the love and support I have had from this community is priceless and I will stay connected in Zuki's memory