Tripawds is a user-supported community. Thank you for your support!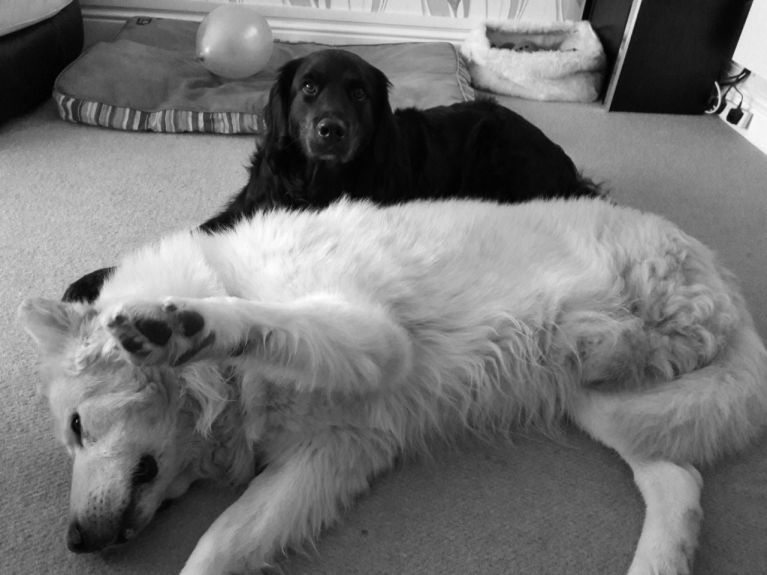 So last Friday (4th November '16), 5mnths and 1 week post op Zuki started to show signs of discomfort with walking and maneuvering himself, especially getting out of the car. Even with us assisting him, I even think sometimes us lifting him hurt more and he would let out a yelp. But on the whole he was fine and still getting about quite well. Saturday he seemed a little weaker and a little less keen to move unless he had to, and again the same on Sunday . Just seeming weak and unbalanced on his back end. But absolutely good as gold in himself. Still coming in for snuggles, eating and toileting. But we knew he wasn't 100% so booked him in to see the vet on Monday morning. It wasn't his normal vet but he thought that the arthritis in his hock was causing him some bother and sent him home with some additional painkillers to help him out. He had TPLO cruciate surgery on that knee in June '13 so some arthritis is to be expected and Zuki has always been a buggar for choosing to sleep on the cold hard tiles rather than the numerous comfy beds and sofa's he has access to. We took him home, dosed him up and kept a close eye on him. By Monday evening he wasn't weight bearing at all and choosing to drag himself around instead. Still keen to go on his night time walk and go to the toilet, still quite bright and still eating.
We even carpeted our entire kitchen so there were absolutely no slippy floors or rugs for him to trip on. Anything to make walking easier for him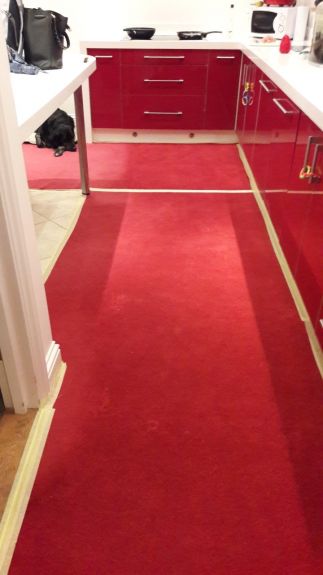 Fast forward to this morning (Tuesday 8th) and everything seems very bleak now. This morning he didn't want to go on his normal morning toilet walk with his sister, so we left him in bed till a bit later and tried again. This time he went (dragging himself) with some coaxing although didn't get himself up onto his back leg so no poo's or wee's. We have just come back from the vets again and its pretty clear its more than just the arthritis. There is clearly pressure in his lower back, either inflamed nerves and/or disk. He still has feeling and movement in his back end and foot which is the good news, so the plan is to give him plt tablets to try and reduce the inflammation and give him the strength to get himself up. My worry is what then….. mask the discomfort with pills for months? To get to the true route of the cause (slipped disk, spinal tumour etc) he'd need an MRI, there isn't one of those in Jersey so we would need to put him on a boat for 5hrs to get him to a UK vets. Once you get the results of the MRI any corrective measures is going to be surgery isn't it?! 2 more anaesthetics and potential spinal surgery!! On a 10yr old GSD with 3 legs and cancer???? I just don't think I can do that to him, never mind the cost and logistics of it all. My heart is breaking and the tears rolling just writing this, but deep down I think I know what I need to do.
My parents arrive for a visit tomorrow evening and the vet has assured me although he is probably uncomfortable he isn't in chronic pain and is still alert and happy to eat etc so it is worth giving the tablets a chance to help him. I'm hoping for a bloody miracle to be honest! If he hasn't toileted by tomorrow morning he'll be back in the vets tomorrow for them to help him. If there's no significant improvement in his mobility with these tablets by Thursday/Friday I think I have to do the right thing for him…. I don't know what other options I have for him. He's fought such a proud and brave fight so far, he has inspired and wow'd everyone who has met him. I want him to go with dignity, with the awareness to enjoy his last days with all his pack around him, loving and doting on him and I want to know he didn't suffer. God damn I thought I'd have longer….. I love that dog like you wouldn't believe. He has changed my life in such amazing ways. Zuki Wuggafer you are just simply the best xxxxx