Tripawds is a user-supported community. Thank you for your support!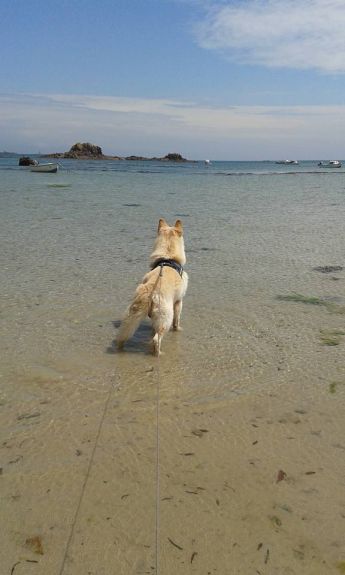 Now we can look forward to our future! I really feel we have turned the corner this week. Zuki's stitches came out on Friday, he finished his course of antibiotics, he's down to one painkiller at night and the cone of shame has been returned to storage 🙂 Zuki no longer seems in any pain, he still gets tired after a walk but this is to be expected and we'll focus on his stamina.
On Saturday we went back to the beach, it was only for maybe 10minutes as I didn't want him to over do it, but you could tell by his whole demina that he loved it and felt revitalised. The dogs played together, splashed in the water and flung seaweed at each other. I am convinced Zuki's missing leg was the furthest thing from his mind- I couldn't ask for much more could I, it was a huge boost for us all!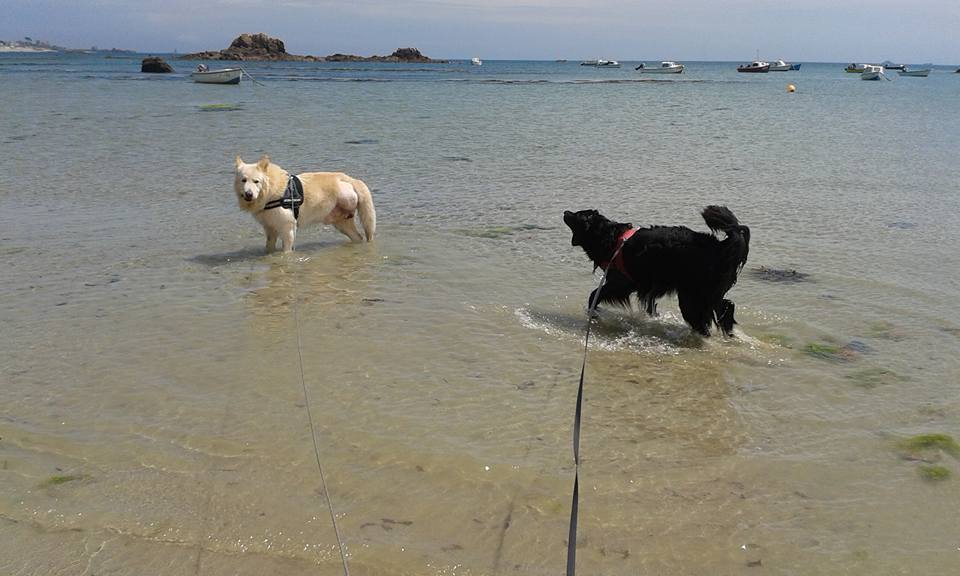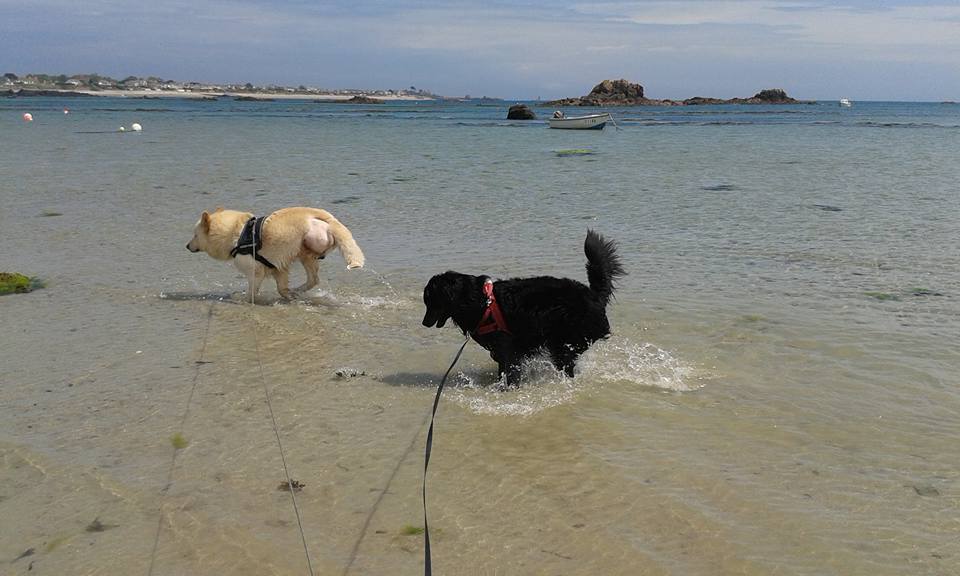 We start Chemo on Thursday, he'll spend the day in with his lovely surgery of vets and nurses – they really do dote on him when he's with them so I am sure it will all go smoothly and my vets assured me that dogs very rarely have any severe side effects to the drugs so I am pretty positive about the whole situation, but time will tell as with all these things.
At the moment I am looking into local physiotherapists who can also offer hydrotherapy treatment. My vets says he has never sent an amputi for this kind of rehabilitation as his view is that by adjusting to getting around the dog is using all the necessary new muscles and these will naturally strengthen themselves. I do understand this but I also think some structured exercises wouldn't be of detriment to Zuki. We did free swimming hydrotherapy after his first cruciate repair a few years ago and he absolutely loved it. Zuki lives and dies by his tennis balls and as I couldn't throw these for him to chase on land, the swimming pool offered us the perfect environment to play, he didn't think of it as rehabilitation that's for sure. Now although the research I have done so far suggests a watermill would be more suited to his case this time round I'm pretty sure he will still enjoy being in the water – do any of you have experience of this type of aftercare, pro's and con's? Its quite expensive so need to weigh up the benefits really.
Today is a big day for my dog walker. I work 3 days a week and so have my dog walker come in at lunchtime to take the dogs out, break up their day and let them toilet. But he's not had a 45kg tripawd before! My husband has taken the dogs to work with him the last 2 weeks. I've given him loose instructions, but to be honest I've found that Zuki has guided me so far, so I have basically said – listen to the dog. He'll tell you when he's had enough. Which he does, just takes himself back to the car, some walks this has been after 15mins, others after a quick wee and a poo. We don't have an agenda of what exercise will be anymore, walks are for fun now not for weight control (Zuki has always maintained a steady weight so I'm not overly concerned about him gaining as I appreciate this important now he's a tripawd) or energy reduction, so whether we're out and just sit together and look out to sea, or if we are having a blast though the shallows, it doesn't matter, its quality time together and creates memories every outing. My other dog, well she still definitely needs the energy reduction walks, she's only 2 and full of beans. But its ok, we just take her out on her own separately, at first she was a little weary as since day one she's had her big bro to protect her, but she's getting used to it and its actually doing her obedience some good. I think before she just followed Zuki's lead, she knows all her commands but was easily distracted. Now that I can spend some one on one time with her she's coming on leaps and bounds – every cloud has a silver lining right? 🙂
So all in all it feels like we've found our new normal, and I actually like it. I'm very content with where Zuki is at and its more than I could have hoped for at this stage of his recovery, I mean its still early days isn't it. But he's happy, he's doing 100% of the things he did before his op, maybe just adjusted slightly, but from his perspective life is good I think. He gets cuddles and attention everywhere he goes now, he's a local celebrity thanks to social media and everyone is amazed and inspired by his heroic story. It makes me extremely humbled and proud, I couldn't ask more from my loyal sidekick, my protector, my guiding light.