Tripawds is a user-supported community. Thank you for your support!
Well what a week its been, an emotional roller-coaster is the only way I can describe it, but it has also flown by! There have been tears of extreme guilt and gasps of shear amazement, but that's just been me. Zuki, well he's been mostly just Zuki, a big goofy bear demanding constant cuddles and belly rubs!
I have to say the worst part for me was waiting in the vets surgery for them to bring him out to me. I felt sick to my stomach with the anticipation of what my beautiful pup had now become…. Well I didn't have to wait long for the big oafe to come bounding (and I literally mean bounding!) through the door with his big drooling tongue swinging and his eyes bright with excitement 🙂 The nurses couldn't get the door open quick enough for him. For those first few minutes of  'I love you mum' whines and spinning circles round me, he seemed absolutely oblivious to his new stance. All that said when I saw him hoping around I just couldn't contain the surge of guilt. I could see in front of me that he was already doing fantastically, the vets said they were delighted with his recovery over the initial 24 hours, but still I felt pity for what I had chosen to do to him, angry that I had been forced to make this decision for him and sad that he wasn't the same dog.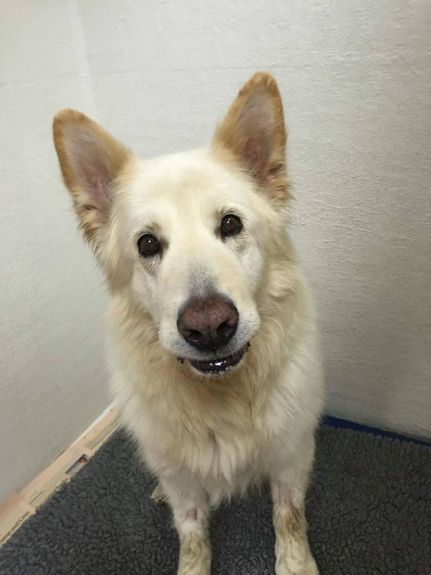 As each day passes I get a little more at peace with the situation, as Zuki heals physically I guess I heal a bit more emotionally. Maybe the sleep deprivation is making me a little more sensitive, actually who am I kidding, I just love him so much its horrible to see him struggling. Now let me clarify that statement. Zuki is absolutely not struggling with his mobility – he's around the house, up and down the step to the garden, maneuvering around my young son and our other dog without really much thought. But his surgery wound and the stitches….. they are causing him discomfort and grief, he just cant help himself fussing with it. Its been a changing scenario each day really as I suppose different things are hurting, itching, swollen. Its gone a bit like this;
Friday night – Still very spaced out from the anaesthetic and intravenous painkillers, he was quite relaxed and settled until 3am, when I can only assume some of the meds wore of and he just cried and cried. It broke my heart as I couldn't really do much other than sit with him and comfort him, which I did for most of the early hours of the morning. In between my young sons night time feed. So safe to say there was very little sleep had.
Saturday – His medication dose was prescribed as 3 tablets every 12hours (7am and 7pm) but about 2 hours after I gave him his morning dose the crying started again, I think it was making him feel queasy and strange. He wasn't interested in food yet. As long as someone was close to him he was quite relaxed and would sleep, but if on his own he was fidgety and whimpering. This makes me think it was more that he wanted company than he was in severe pain or discomfort. Again at 4am the crying started.
Sunday – Very similar to Saturday. Although he still wasn't very interested in food, he would take tip bits if fed by hand but wouldn't really entertain his bowl until dinner time when he took a small portion of his wet food. I was starting to think that changing the dosage of his pain meds might help him by having a lower dose more regularly. 1) to stop it wearing off and 2) to minimise the side effects on him, but I needed to speak to my vet on Monday morning before doing this. We had him on 3 times a day icing to help with the bruising and swelling, he suffers quite badly from razor rash where they shaved him so wouldn't let me ice the top of his stump, thankfully the majority of the bruising was below the incision, travelling south around his boy bits. After an ice pack I apply arnica cooling gel and aloe vera to help with the skin as I think that irritates him as much as the wound and the stitches. I have been amazed at how quickly the deep purple bruising has reduced to a slight mottled redness now.
Monday – Time for the cone of shame! Now all the anesthetic has worn off, Zuk's is really getting back to his normal self, although still very clingy, following me around like a shadow most of the day. Not a bad thing really as little and often movement is the best thing for both his strength and to shift the fluid from the swollen areas. But now he's paying more attention to the stitches. I have literally had one eye on him and one eye on my son all day, its amazing what you can do as a mum! 😉 He hates the cone and it makes him look so miserable so I only put it on him when I'm not able to monitor him. He's now on 3 walks a day, literally just a few minutes to do his business. I drive him to our local spot of greenery that he's used to, he hopes around, has a sniff and when he's tired he either sits down and rests or takes himself back to the car. I was really worried about how he'd toilet but his been coping fine since day 2.
Tuesday – Much of the same. Chilling out. We had a lovely sunny day, so spent a lot of time outside playing and relaxing. Here's a little snapshot – What every poorly pup and little boy need, each other! xx (you can see here Zuki has put his paw into my sons hand to hold)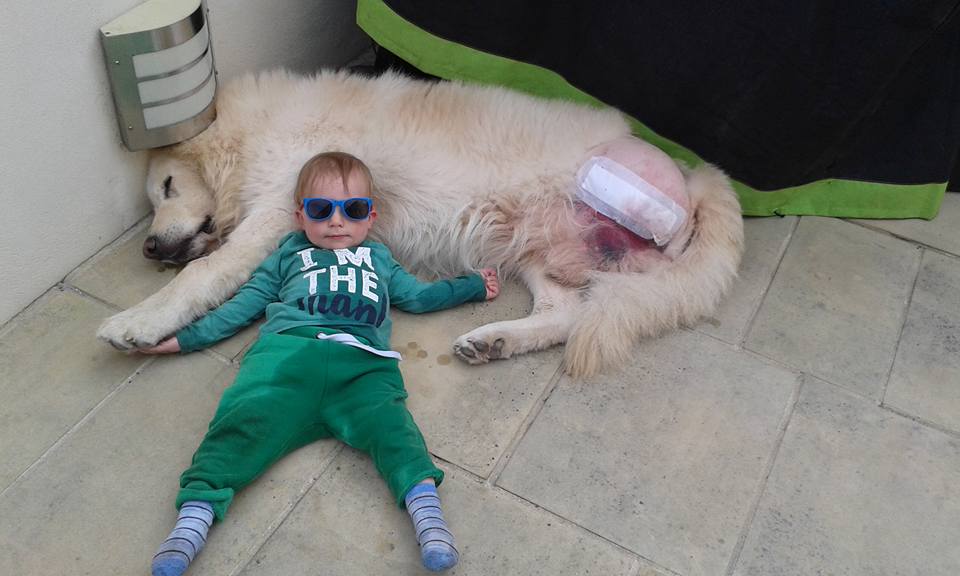 Wednesday –  A small disaster. Zuks woke about 6am crying, I took the cone off as he'd had it on all night. Shorty after my son woke up so I went upstairs to see to him. I was maybe 15/20mins, when I came back down Zuki had managed to pull one of his stitches out leaving an inch long gaping hole (big lesson learnt on my behalf). It didn't seem too bad at first, but as the day went on and he moved more the wound started to open up and bleed, not dramatically, but enough to worry me and feel it best to take him back to our vets. They were fantastic, squeezed him in without an appointment and put 3 small sutures in to replace what he had taken out. So now he's on strict cone usage. He actually seems to have accepted his fate with it a little more and is just getting on with things.
So hopefully that's given you an insight into my initial experience of being a mum to new tripawd. Every thing I read prior to the surgery and everyone I spoke to said how quickly dogs adapt and how its the humans that suffer more – I absolutely concur with this. I tried to prepare myself mentally, but its still shocking to see at first, its scary to watch them fall on occasions and its hard to know how best to keep them comfortable while they heal. But as each day goes by I'm quickly realising that my pooch is still my loveable pooch. Its been inspiring to see how my son and my other dog have treated Zuki. Phoenix (our young retriever x) has been a lot quieter around him, typically she's constantly nipping at his ears and feet to get him to play fight with her, but this week its all been about snuggles and companionship. Although my son is only 15months old it has been incredible to see how affectionate he has been with him, he clearly has picked up on the fact that Zuki isn't feeling quite himself and knows that he needs a little extra love at the moment.
We will take the next couple of weeks to get the wound healed up nicely and then we start chemo. I'm hoping this is as straight forward as it can be for Zuki, with minimal side affects, but only time will tell. I'm just focused on the day I can get zuks back onto the beach and swimming in the sea. For me and him, that will be normality and will assure me that he is getting the best quality of life I can offer him. Until then its slow and steady progress day by day, we're all doing it together 🙂